Today I found myself pondering the mystery of why anyone would actually read the Daily News. Nonetheless, I presume people buy it because somehow the glorified gossip magazine continues to operate.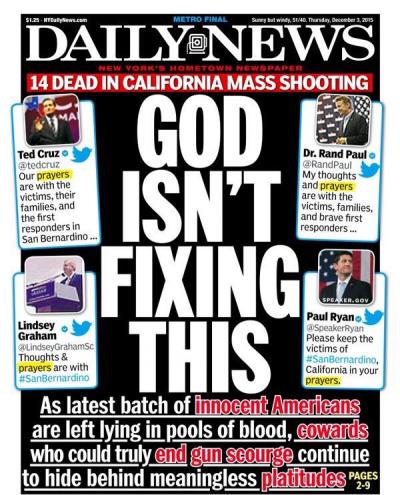 My thinly veiled displeasure at most major "news" outlets aside, the above article was brought to my attention when I came across Patheos' Top Ten Atheist News Stories of 2015 and found the link to the now infamous article written in response to the San Bernardino shootings. The article is essentially an accusation that Christians hide behind prayer and don't do enough in the face of such atrocities followed by a premise that prayer is a waste of our time because God either:
doesn't care
doesn't do anything
doesn't even exist
I'm really glad this article made the list because if this is the best atheists have then I feel reinforced in my decision to practice Catholicism. Because the author totally missed the boat on this one, and this article should be an embarrassment to committed atheists everywhere, not a rallying point.
It's embarrassing because this article comes across more like the rant of an angsty teenager against uncool parents than a sound philosophical argument. Because my Catholic faith represents truth and atheism doesn't represent anything except a negation of the truth my religion proclaims. You may not like everything Dad has to say, but you do not disprove the existence of Dad by merely claiming that he sucks. And the article really highlights this flawed reasoning in a most delightful way. 
Because what the title of the article should have been was this:
"GOD ISN'T FIXING THIS MY WAY"
This reasoning, I would argue, is the most sincere divide between theists and atheists because it is the prime issue encountered when examining one's beliefs as it is the essence of faith. The Christians (the most popular theists to bash) who were called out in this article were called out because they committed the secular sin of being audacious enough to believe that God exists AND retain the faith that even in the darkest of circumstances He reigns supreme. This attitude really pisses people off. If you don't believe me, read The Littler Way. 
Because there is a great temptation, a human pride, that leads us to believe that if there is a God He should operate the way we do. We wonder how a God who presumably loves us can let us experience pain? Why a God who rules the universe allows such tragedy? Especially if He has the power to stop it. And I think there is a prevailing stereotype of Christians as either unbelievably ignorant white trash or the ultra preppy Bible study type who is always smiling and LOVES JESUS. And people say that "they have faith because they just don't get it. They are not as smart as we are and if they were they also would no longer believe."
But the truth is I continue to believe in God because I do not, nor will I ever, presume to believe that I am as smart as God or that my understandings come anywhere near His own. God by His very essence does not have the same human limitations that I do, even when He took the form of a human Himself. No, God is infinite and while there are many things about His nature I feel I am coming to understand as I mature in my relationship with God, I simply could never grasp the infinite. Not for lack of intellect or because God doesn't love me or even that God is some jerk who enjoys being smarter than everyone else (not possible because God has no pride), but because I am still confined to time and infinite things are, by their very nature, outside of time. And in the lapse between my earthly life and my death which I do believe will plunge me into eternity, I chose to have faith not from an ignorant refusal to see what is in front of me, but rather an ignorance of what I cannot yet see in front of me. My faith is my admission that while there is much I do not know, I do know in my heart that I love God, which means that even when I don't understand God or His ways or my trials, I trust Him. That is what confounds, angers, and upsets those who love the world and have rejected or neglected the presence of God in their hearts.
Admittedly, I was given the tools to nurture my faith through the blessing of being able to grow up among a different sort of Christian than the unflattering media narrative they parade across all "news" outlets. The kind of Christian that gets no notice from the world. The Christian who chooses love in order to please no one except their God, because their God first loves them and from that experience they have been drawn to love and serve others. And you won't find these people just in churches, you'll find them in hospitals, offices, charities, schools, grocery stores, bus stops, and even on playgrounds. The unspoken witnesses to the love that makes the world go round, the little acts of love and kindness that go unnoticed to the masses, meant only for those who were meant to see them, as God leads us all both to Himself and towards one another.
So tell your atheistic and cynical counterparts to calm down. We may be confined to time, but God is not and He will finish what He began in this world in a more glorious way than you or I can yet imagine. All that's left to do now is leave you with the wise words of my powerhouse of a confirmation Saint, Theresa of Avila: